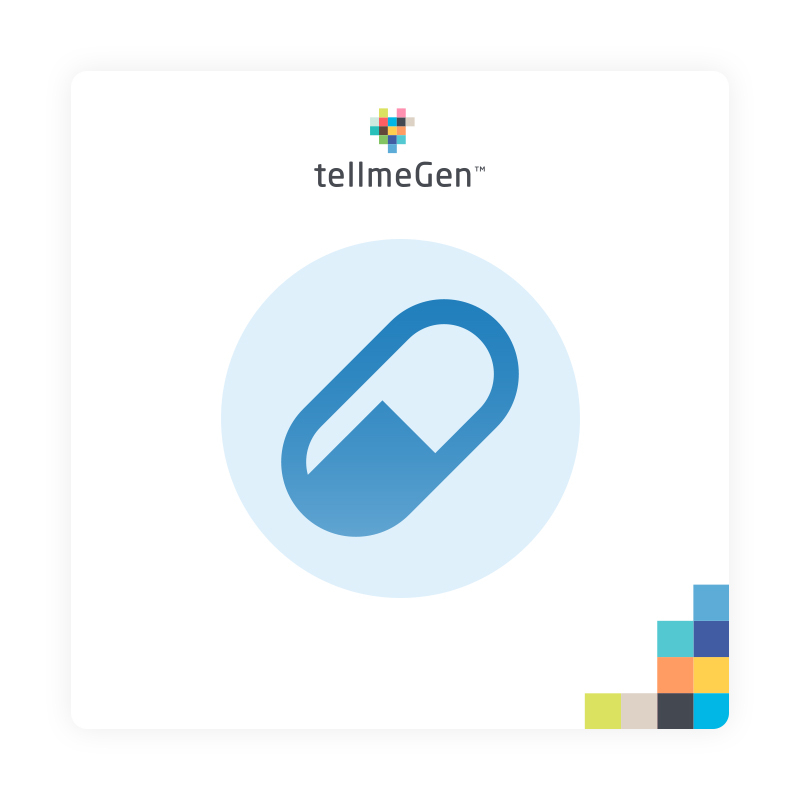  
Pharmacogenetic Report
PERSONALIZED PHARMACOGENETIC REPORT BASED ON THE RESULTS OF YOUR GENETIC TEST.
* Product valid only for those who have taken a tellmeGen genetic test.
From the tellmeGen's Pharmacogenetics Department we are at your disposal to offer you information and support if you have taken a genetic test with us.
Have you ever wondered why different people feel better or worse on the same drug taking the same doses? Why do some people's symptoms disappear while others persist and even suffer side effects? The answer is genetics and pharmacogenetics. 
We can help you to understand the results of your pharmacogenetics study from different points of view:
Tolerability and efficacy report for the drugs you need, whether they are included within our pharmacogenetics panel or not (if there is contrasted pharmacogenetic information)
Answers to questions about any type of pharmacological treatment: cardiovascular system (antithrombotic, lipid-lowering drugs, β-blockers, etc.), analgesics, anti-inflammatory drugs, antidepressants, antipsychotics, attention deficit disorder, bipolar disorder, antiepileptics, anxiolytics (any type of psychiatric medication), neurological (Alzheimer's, anti-migraine, etc. ), muscle relaxants, respiratory system (asthma, bronchitis, COPD, etc.), chemotherapeutic agents, antivirals, immunosuppressants, antidiabetics, gastric secretion inhibitors, antirheumatics, etc.
A personalized study that will detail whether the drugs you ask us about will suit you well (they will not generate side effects) and, in addition, if they will be effective depending on your genetic variants. In addition, in this report we will be able to make recommendations on whether you would need an adjustment of the doses of the drugs you are taking or are going to take
We will help you to select the drug on the market with the best benefit/risk ratio for you
Are you at risk of suffering from any genetic disease? At tellmeGen we can advise you on which drugs would suit you best in case you develop it
Tips to learn how to read package inserts or to know which drugs can cause undesirable interactions in case of taking several drugs at the same time
The report will be sent via email. We guarantee the privacy, confidentiality and security of your data by applying the latest encryption technology so that only you and the genetic counselor can access the data in the report.